Vehicle Removable LED Tower Lighting | Lighting Products
- Product
Jeollabuk-do -
South Korea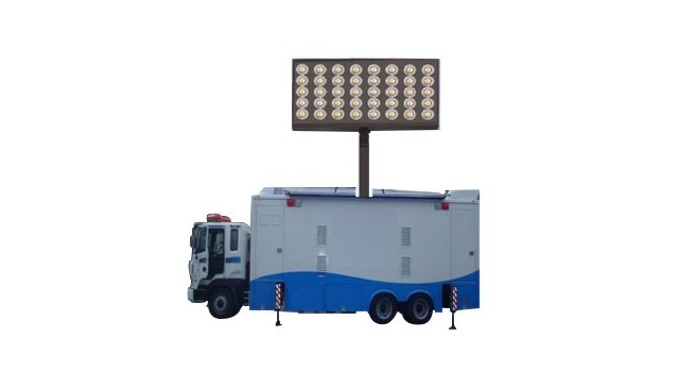 [Vehicle Removable LED Tower Lighting]
Vehicle mobile LED tower lighting products are used for special applications.
Disaster scene, night road construction, construction site, outdoor performance place, military unit.
This product is equipped with a waterproof & bulletproof LED lighting lamp in a specially ma
Description of the Product
[Vehicle Removable LED Tower Lighting]
Vehicle mobile LED tower lighting products are used for special applications.
Disaster scene, night road construction, construction site, outdoor performance place, military unit.
This product is equipped with a waterproof & bulletproof LED lighting lamp in a specially manufactured car. Special LED lighting products are mounted on LED lamps and light aluminum frames with waterproof & explosion proof & bulletproof function.
Automobile battery power is used and LED lamp is driven without electricity. On the front of the frame, the LED light emits light, and on the back side real-time image is displayed.
Price of the Product
Price not indicated
Characteristics of the Product
Type

Lighting Product

Model

Vehicle Removable LED Tower Lighting

Brand

ASTRONIX LS

Certification

CE, ISO 9001, ISO 14001
Category of the Product
I want to get more details about the product
Company catalogues - ASTRONIX LS CO., LTD