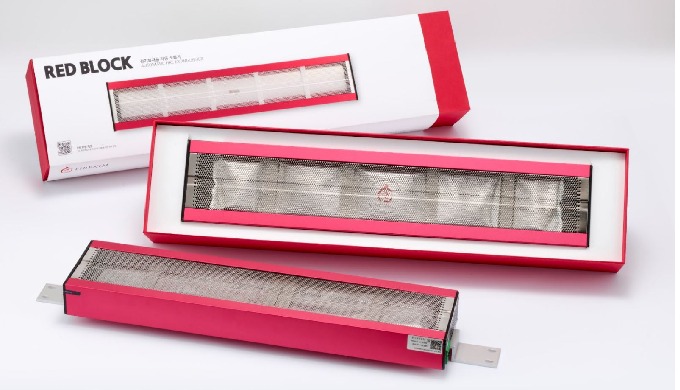 The 'RED BLOCK' is applicable to mid to large-sized spaces such as electrical panels, switches, transformers,
ESS rooms, ships, large drones, UPS, and power plants.
ㆍThe N-Type is a product designed based on the existing 'STICK' product to suit any mid to large-sized protection volumes.
ㆍThe S-type product is designed to gives b...
Description of the Product

The 'RED BLOCK' is applicable to mid to large-sized spaces such as electrical panels, switches, transformers,
ESS rooms, ships, large drones, UPS, and power plants.
ㆍThe N-Type is a product designed based on the existing 'STICK' product to suit any mid to large-sized protection volumes.
ㆍThe S-type product is designed to gives buzzers through monitoring system and fire extinguishing capsule to activate
when there are abnormal signals such as changes in smoke concentration, temperatures higher than a certain level in N-type

□ Features of the product
① Product is applicable to mid to large-sized spaces
② Discharges over 90% of the fire extinguishing agent within 30 seconds
③ The system of automatic fire extinguishing agent discharges by responding to heat
④ Possible to design customers' requirements of own activation time

■ Model : FRB 500 S
■ Size : 103mm(W) x 43mm(H) x 506mm(L)
■ Volume of protection according to NFPA standard : 1.215㎣ 2 grade
■ Maxmum installation height : 1.5M
■ Product Weight : 796.4g
■ Expiration : 5 Years
Price of the Product
Price on request
Category of the Product