MP-DW Dewatering screw press www.mivalt.cz
- Product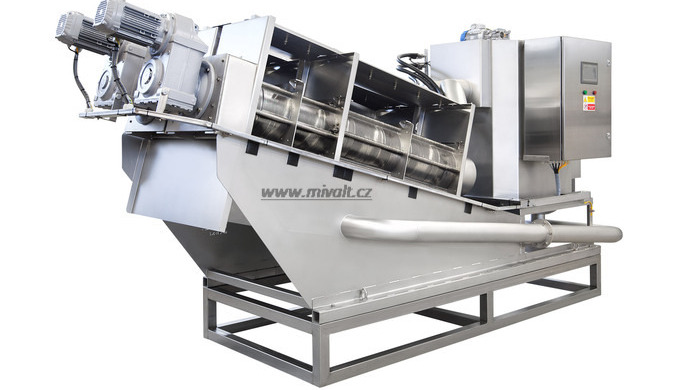 Dewatering screw press is used for efficient thickening and dewatering of sludge waters. Sludge waters are water, containing certain amount of suspended solids, these can be product of waste water treatment, food proccessing industry, chemical industry and other branches of human activity. Our dewatering screw press, which serves to thicken sludge
Description of the Product
Dewatering screw press is used for efficient thickening and dewatering of sludge waters. Sludge waters are water, containing certain amount of suspended solids, these can be product of waste water treatment, food proccessing industry, chemical industry and other branches of human activity. Our dewatering screw press, which serves to thicken sludge water to 20% dry-matter content on municipal sludges and more for mineral/industrial sludges, can provide efficient desludging. In terms of quality, this equipment surpasses traditional sedimentation sludge removal and other technologies.
This dewatering/thickening screw press has been designed to be used primarily in wastewater treatment plants, but can also be used for thickening both industrial water and wastewater in food-processing operations.
If a dewatering press is already incorporated into the new WWTP design, costs related to te construction of sedimentation tanks are eliminated as this equipment can also be used for thickening secondary sludge directly from activation.
Price of the Product
Price on request
Characteristics of the Product
Type

MP-DW

Model

MP-DW-131, MP-DW-201, MP-DW-301, MP-DW-302, MP-DW-303, MP-DW-401, MP-DW-402, MP-DW-403

Dimension

10kg - 420kg D.S. capacity per hour

Brand

MIVALT

Certification

Declaration of Conformity MP-DW

Origin

Czech Republic
I want to get more details about the product
Company catalogues - MIVALT s.r.o.