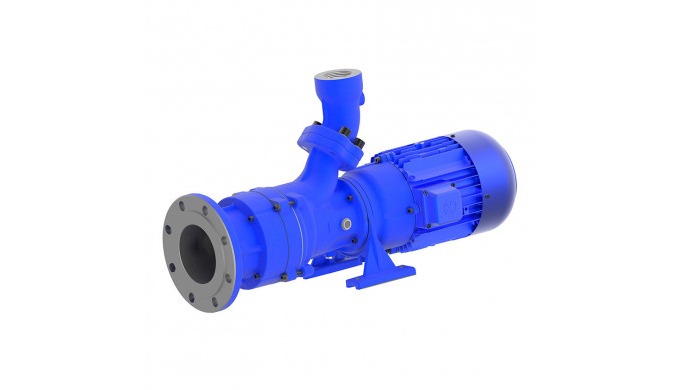 Horizontal End-Suction Pumps are centrifugal inline pumps with a compact design where the impeller is mounted onto the extended motor shaft.
These pumps are not self-priming and must be gravity fed. All pumps are equipped with double mechanical seal.
This pump series is designed for horizontal installations next to a tank and are capable...
Description of the Product
Horizontal End-Suction Pumps are centrifugal inline pumps with a compact design where the impeller is mounted onto the extended motor shaft.
These pumps are not self-priming and must be gravity fed. All pumps are equipped with double mechanical seal.
This pump series is designed for horizontal installations next to a tank and are capable of cutting aluminium chips and similar materials and pumping of these materials along with the coolant fluid. An agitator located at the pump suction helps to break up and separate any large bundles of chips or birds nests which reach the pump suction.

The specially made cutting unit (>60 HRC) is cuting chips and the above located semi-open impeller allows with its large clearances to pump the particles along with the coolant fluid from the machine back to the filter. The SBC pumps are capable of handling chip to coolant ratios of up to 1.5% by weight.

Volumetric delivery: up to 1400 l/min
Delivery head: up to 34 m
Price of the Product
Price not indicated
Technical Details
Media : for coolant,emulsions, oils (on request)
Operation : electric
Priming : semi-submersible
Type : centrifugal
Domain : industrial,for machine tools,for the metallurgical industry
Other characteristics : compact,single-stage,horizontal mount,close-coupled,in-line,cutter,for emulsions,cutting fluid