New product
Increase Productivity and Preserve Experts Legacy with Rugged Android PDA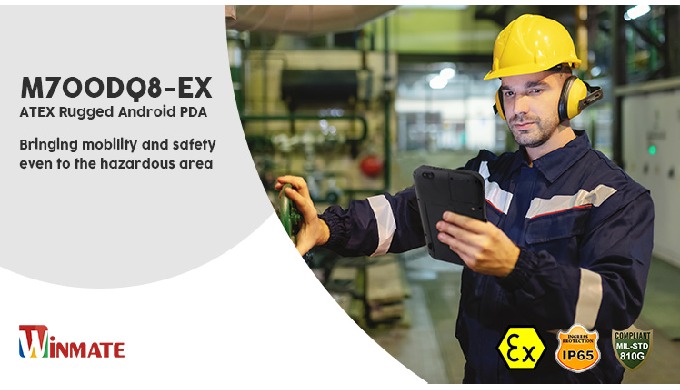 Start date: April 11, 2022 1:41 AM
End date: April 11, 2025 1:41 AM
Mobile working environments and mobile device requirements for the chemical, energy, oil, and gas industries are becoming increasingly critical. Furthermore, many experienced specialists in critical sectors are expected to retire soon. Simultaneously, there is a scarcity of qualified junior employees to fill the voids. As a result, fewer workforces must deal with the same or even more work. Effortless and meticulous electronic data collection and documentation are consequently critical. The compiled data can evaluate or improve the process and preserve the experts' experience.
Mobile Makes You Independent
In areas with dangerous emissions, protection functions like a call to the emergency and rescue services that can be automatically sent in a crisis are essential. And these fundamental advantages also speak in favor of mobile devices:
Rapid decision making through direct communication possibilities,
Employees no longer have to intervene mechanically and thus physically during measurement and control, resulting in a significant reduction in the error rate and time savings during data collecting through digitized operations,
Increased efficiency and cooperation of staff assignments without location-related functional constraints,
Increased safety as the proper decision-making is made based on the availability of accurate information.
Winmate, a rugged computing industry leader, offers rugged computing solutions for use in Zones 2 or Class 1 Division 2, whereby comprehensive certifications guarantee the worldwide use of the devices.The first distinction to make is whether the environment is gaseous or dusty. You will need a PDA for zone 0, 1, or 2 if you're working in a gas environment.
Zones 20, 21, and 22 are for dusty environments.
A zone 0 or 20 is concerned when a potentially explosive atmosphere exists constantly or for lengthy periods of time, that is greater than 10% of the operating or activity duration.
A zone 1 or 21 is concerned if the potential explosive atmosphere under normal conditions is high, between 0.1 and 10% of the operating or activity time.
A zone 2 or 22 is concerned if the possibility of a potentially explosive environment existing under normal conditions is low and only for a brief length of time, which is less than 0.1 percent of the operating or activity duration.
Therefore, before placing an order, carefully consider for which zone the rugged PDA should be suitable.
Winmate's new 7" Android ATEX rugged android PDA powered with Qualcomm® Snapdragon™ 660, Octa-core up to 2.2 GHz. The M700DQ8-EX supports comprehensive wireless connectivity and sensors to assist and keep workers connected, even in the most remote locations. Also, it features a 7-inch TFT panel with direct optical bonding and a user-friendly projective capacitive touch screen.
About Winmate
Founded in 1996,
Winmate Inc.
provides rugged computing devices, Industrial Displays, and embedded solutions for industries operating in challenging environments. Its headquarters in Taipei, Taiwan, has research development facilities and production lines. Today,
Winmate
operates globally with offices and service centers worldwide. Winmate's rugged industrial-grade computing solutions drive the advances in Industrial Internet-of-Things (IoT). Its solutions, such as Industrial displays, Panel PCs, Embedded systems, Rugged tablets, Handheld devices, etc., are being adopted by many industries such as Transportation, Marine, Military, Railway, Oil & Gas, Healthcare, and Field services.
Winmate
also provides product customization and project management services to suit unique customer needs.
For more information, visit
www.winmate.com
.