Contact - Fatra, a.s.
třída Tomáše Bati 1541
763 61 Napajedla
Czech Republic
Send a message - Fatra, a.s.
Legal information - Fatra, a.s.
| | |
| --- | --- |
| Nature | Head Office |
| Year established | 1935 |
| Describe your Company and attract Business opportunities (CZ08) | Výroba plastových desek, fólií, hadic, trubek a profilů (2221) |
| Corporate capital | 1,027,000,000 CZK |
| IČ | 27465021 |
| VAT no | CZ27465021 |
| No employees | 1300 Employees |
| Kompass ID? | CZ010833 |
| Kompass member for | + 7 years |
| Membership | Booster International |
Presentation - Fatra, a.s.
Products of plastic materials – flooring, insulation foils, membranes, waterproofing systems, technical and printed vinyl foils, packaging materials, sanitary foils, breathable films and laminates, biaxially orientated polyester films (laminates), foils and sheets, thermoformed packaging, tablecloth fabrics, plastic sections, PVC granulate, welded products, inflatable toys (seat, watter), inflatable promotional articles, injection-moulded products, plastic crate, multifunkcional plastic tiles, re-granulates.

PVC floors LINO Fatra, vinyl floor boards Themofix and Imperio, floating vinyl floors FATRACLICK, RS-CLICK and WELL-CLICK, wall covering MODUL - are traditional products of Fatra, that are intended into households and commercial premises.

Waterproofing membranes and systems FATRAFOL- PVC insulation membranes and accessories are offered as comprehensive solutions for different types of roofs and structures. Waterproofing membranes are designed for the insulation of flat and slightly pitched roofs, green roofs, balconies and terraces, construction foundations, including radon insulations and insulations against a leakage of chemicals and, last but not least, insulations of garden ponds and water structures

Breathable films and laminates SONTEK - breathable films Fatra Sontek® F (manufactured from densely filled polyethylene) and breathable laminates Fatra Sontek® L (manufactured by laminating breathable film and non-woven fabric). They are designed for use in the manufacture of disposable sanitary products – nappies for babies, sanitary towels, incontinence pads, supplies for the chronically ill or other medical applications.

Extruded plastic profiles – we extruded from a variety of materials (PVC, PP, PE, TPE, ABS), physical-mechanical properties, shapes and colors. We offer profiles, edges, tubing for construction, furniture, automotive and consumer industries.

BO PET - biaxially oriented polyester films are one of the best and most widely used materials for the manufacture of flexible packaging and electrical insulation

PVC granulate - semi-finished products intended for further processing. It is made from a mixture of polyvinyl chloride and relevant ingredients according to the requirements of the final use.

Technical vinyl foils - Fatra is a producer of softened polyvinyl chloride foils (PVC-P). Our foils do not contain heavy metals and excel chemical resistance. Foils are suitable for the production of haberdashery, packaging purposes, for medical care (bed pads, changing pads) and special purposes. We also offer tablecloths and printed films for interior and exterior.

Welded products - raincoats, inflatable advertising items, bed inserts and napkins, inflatable toys (seat, watter), blow up baby gym and inflatable mat for dogs, inflatable collars.

Foils and sheets from PE, PET and EVAC - among these products belong in Fatra anti-slip foils from EVAC, sheets from PET, insulation sheets from LDPE and HDPE, embossed sheets and warning foils from LDPE.

Injected products – we offer injection moulding on injection moulding machines with clamping force: 420 to 1100 t. Multifunctional plastic tiles – on terrace, to swimming pools etc. Protective plastic plugs - cover the winding rolls. Plastic crate - for pastries, fruits and vegetables, use in the household.

Thermoformed products - cups, containers, lids – formed from unobjectionable non-plasticized PVC foils.

Regranulate, regranulation - we offer polyolefin re-granulates - we offer processing PP, PE, PP/PE and EVAC plastic waste. We buy plastic waste.
Company catalogues - Fatra, a.s.
Company's Videos - Fatra, a.s.
General Information - Fatra, a.s.
Export area
West. Europe, Central/East Europe, Middle East, North America, Asia-Pacific
Switzerland, China, Slovakia, Poland, Italy, United Kingdom, France, Russian Federation, Ukraine, Germany, Romania, Netherlands, Hungary, United States, Austria, Belgium, Sweden, Turkey
Brands - Fatra, a.s.
FATRA RS-CLICK (Producer)
FATRA WELL-CLICK (Producer)
Ing. Hana Krahulová
Assistant Manager (Asistent)
Ing. Olga Vyčánková
Technical Director/Manager (Technická ředitelka)
Ing. Miroslav Slováček
Production Director/Manager (Výrobní ředitel)
Ing. Vít Macháň
Departmental Director/Manager (Ředitel úseku energetiky)
Participation - Fatra, a.s.
News - Fatra, a.s.
Press release
FATRAFOL MEMBRANE HAS OBTAINED A "TESTED IN ANTARCTICA" CERTIFICATE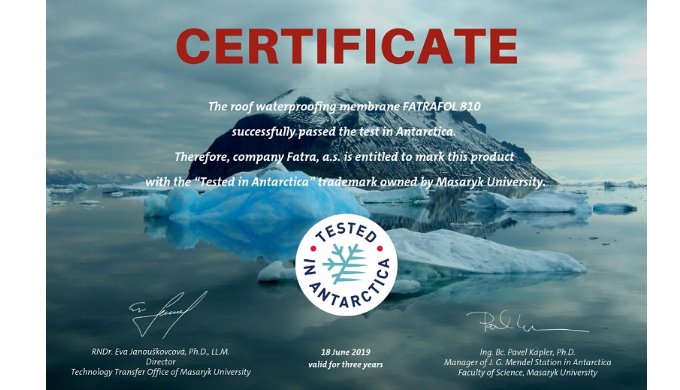 Date: July 9, 2019 10:00 PM
On 18/06/2019, the ceremonial handover of TESTED IN ANTARCTICA certificates took place at Masaryk University in Brno. This certificate was awarded to FATRAFOL 810 roofing membrane, which has been successfully tested under extreme conditions in Antarctica. The testing itself is carried out by expedition members who test whether products meet the properties declared by the manufacturer even in a demanding polar environment. Compliance with the requirements of these tests then entitles the company to the trademark
Tested in Antarctica
.
Testing of FATRAFOL 810 roofing membrane was commenced at the beginning of 2015 and the total testing time should exceed 10 years. Testing takes place at the Johann Gregor Mendel scientific station, which is located on the coast of James Ross Island in Antarctica. This systematic and long-term research focused on the durability of roofing waterproofing membranes takes place in quite unique climatic conditions unparalleled in plastic testing. Usually, the ageing process of plastics is carried out in countries with high sunshine intensity and relatively high daily temperatures. In contrast, Antarctica provides completely different conditions, typically characterised by multiple temperature changes from a few degrees above zero to less than -30°C, reduced luminous flux during the polar winter, but an increased proportion of the UV component caused by the ozone anomaly (i.e. hole in the ozone layer). Physical factors – ice and sand particles carried by winds reaching speeds of up to 150 km/h – also play a significant role here.
The exact test conditions and results are published on the website
www.tested-in-antarctica.com
.
Other
International delivery from our e-shop is now available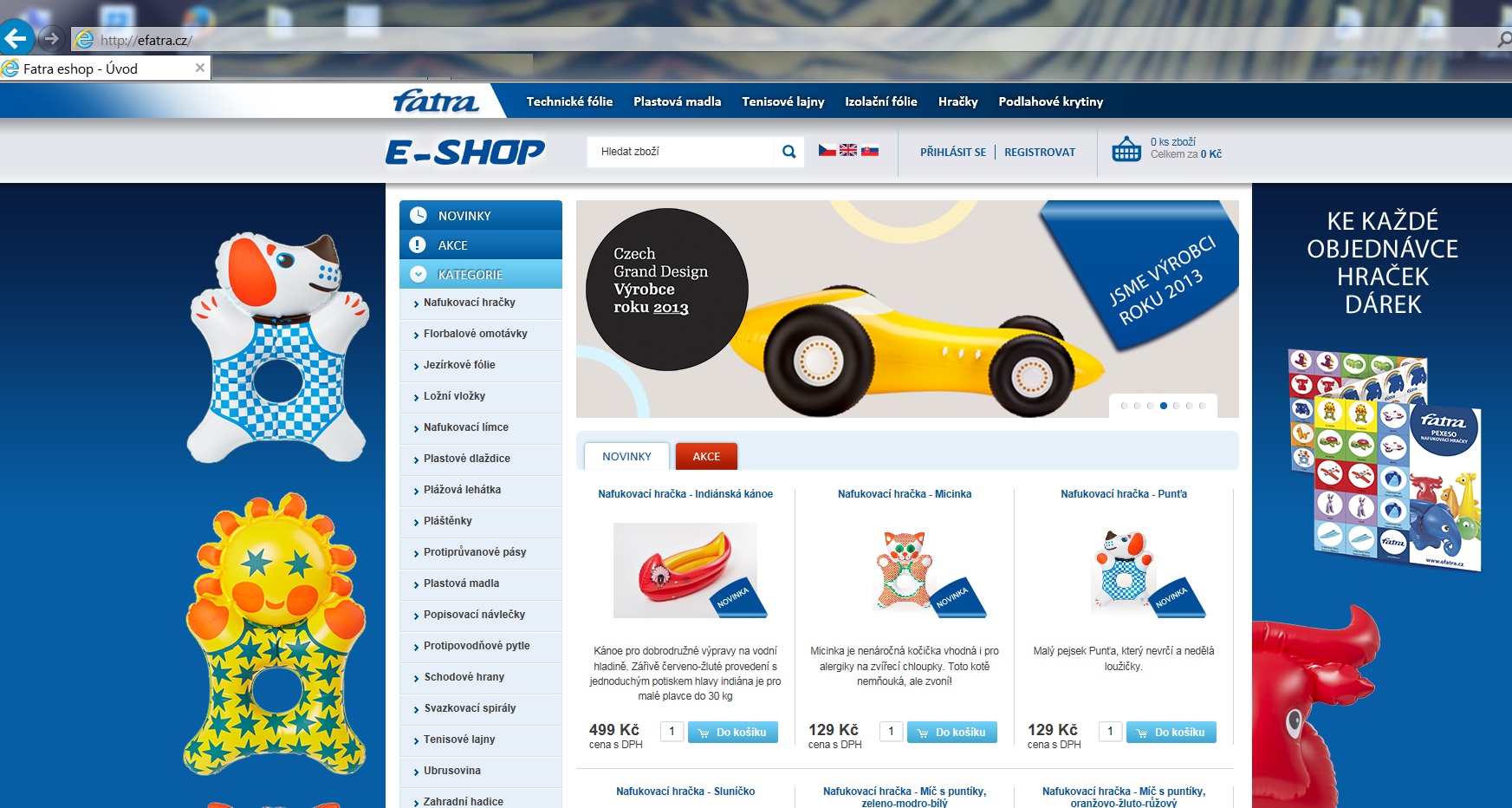 Date: September 19, 2014 12:00 AM
Starting in September 2014, toys bought in our e-shop can be shipped abroad. Foreign customers (except from Slovakia), please visit www.efatra.com.
Fatra's Czech e-shop has been in place for nearly one and a half years. The service has been extended in response to the growing demand for our toys from abroad.

Location - Fatra, a.s.
Other addresses
Visit address
třída Tomáše Bati 1541
763 61 Napajedla
Czech Republic
Legal address
třída Tomáše Bati 1541
763 61 Napajedla
Czech Republic
Key figures - Fatra, a.s.
Turnover
Operating income
Net profit
Activities - Fatra, a.s.
Producer
Distributor
Service provider
Main activities within the Kompass classification
Other classifications (for some countries)
NACE CZ (CZ 2008) : Výroba plastových desek, fólií, hadic, trubek a profilů (2221)
NACE Rev.2 (EU 2008) : Manufacture of plastic plates, sheets, tubes and profiles (2221)
ISIC 4 (WORLD) : Manufacture of plastics products (2220)
Secondary activities within the Kompass classification